SEATTLE SEAHAWK FANS - GET YOUR 12TH MAN BAND!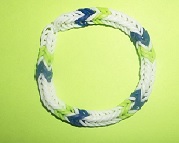 Not all of us know a 9 year old that can make us one of these cool rubberband bands!
The bands are in bright Seahawk colors - away game (the white even glows in the dark).
Order by midnight pst, January 27, 2014 to allow time for delivery.

You will be taken to PayPal for completion of your order.

---
| Home | View Demo | Search Lists | Login to Edit List | Register | Why EazyList | Contact Us | Log Out |